Title: A Way with Words and A Way with You
Series: A Way With
Author: Lane Hayes
Narrated by: Alexander Cendese
Publisher: Lane Hayes
Release Date: May 29, 2020
Heat Level: 4 – Lots of Sex
Pairing: Male/Male
Length: 5 hrs and 43 mins
Genre: Romance, Contemporary Romance, Humor, New York City, Bisexual, Office Romance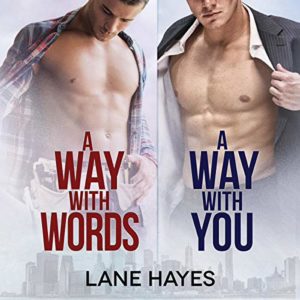 Synopsis
Tony De Luca is a simple guy. He works for his uncle's Brooklyn-based construction firm. And he knows from experience that keeping his head down and doing his job is the best way to deal with the meddlesome family members he sees daily. They think he's quiet and, maybe, a little awkward, but the truth is more complicated. Tony has a secret he isn't ready or willing to share. He's an expert at avoiding familial scrutiny. At least, he was until the sexy guitar player showed up.
Remy Nelson is a small-town, free-spirited guy looking for a new life in the big city. He stays busy by playing his instrument on a busy Manhattan street corner during the day and bartending at night. Remy is more interested in finding steady employment than a mate, but he can't deny his attraction to the dreamy construction worker with soulful eyes, a kind heart, and a unique way with words.
Falling for Remy wasn't what Tony expected, but he knows keeping him will require courage. And truth.
---
🌟🌟🌟🌟 4.5 stars
🔥🔥🔥🔥 Heat Level: 4
🎧🎧🎧🎧🎧 Narration: 5
I loved the Nelson brothers and each story is unique, hot, and passionate.
Tony and Remy are so sweet and a little fumbling as they move through the attraction with each other in secret as Tony is not out. As they "court" their feelings grow and the fear of being found out becomes more of a problem. When their secret gets out Tony is forced to face his true feelings and his family. There love story is sweet and endearing and a little bit adorable.
Now Reeve's story is full of fire, heat, and passion and once that spark is ignited so much more lies underneath. Leo and Reeve start of firey but there is so much more to Leo and while Reeve fights his feelings a bit Leo knows what he wants and goes for it.
Both these brothers stories are passionate and sweet and Alexander did a fantastic job narrating both these stories, with different tones, nuances, and dialects, it was a fantastic listen!
Thanks for reading! For great stories, reviews, and more please visit https://blog.bookstattoosandtea.com/ 📚!
---

---
Meet the Author

Lane Hayes is grateful to finally be doing what she loves best. Writing full-time! It's no secret Lane loves a good romance novel. An avid reader from an early age, she has always been drawn to well-told love story with beautifully written characters. These days she prefers the leading roles to both be men. Lane discovered the M/M genre a few years ago and was instantly hooked. Her debut novel was a 2013 Rainbow Award finalist and subsequent books have received Honorable Mentions, and were winners in the 2016, 2017, and 2018-2019 Rainbow Awards. She loves red wine, chocolate and travel (in no particular order). Lane lives in Southern California with her amazing husband in a newly empty nest.
Meet the Narrator
Alexander Cendese is a New York–based actor and narrator. He has performed on Broadway (A View from the Bridge) and in regional theater, and has narrated numerous audiobooks. His television and film credits include the CW's Beauty and the Beast, Best Man in the Dark, and Catskill Park.
Enter the Giveaway:
---