Title: Gay All Year
Author: Richard May
Publisher: NineStar Press
Release Date: August 17, 2020
Heat Level: 3 – Some Sex
Pairing: Male/Male
Length: 78700
Genre: Contemporary, LGBTQIA+, Contemporary, romance, short stories, gay, bisexual, interracial, age-gap, slow burn, friends to lovers, BDSM, Dom/sub, humorous, multiple partners, priest, military, Native American, law enforcement, bereavement, daddy issues, men in uniform, Hanukkah
Synopsis
Twelve optimistic MM stories, one for every month of the year.
How do men meet? Each story is connected to a holiday or event—Epiphany, Valentine's Day, Pi Day, Arbor Day, Mothers' Day, Fathers' Day, summer vacation, a rodeo, Labor Day, Columbus Day, Thanksgiving, and Hanukkah—but may not be quite the celebration you're expecting.
Neither may the men, and when these men meet, attraction does not always equal love—at least immediately—but chemistry finds a way.
---
Exclusive for Books, Tattoos and Tea: Interview with a Character

INTERVIEWER: I'm interviewing Jamie Battle Barnes, one of the principal characters in "Garden Party," a story from the new collection by Richard May, Gay All Year, just published by NineStar Press. Welcome, Jamie.
JAMIE: Thank you. I'm a little nervous.
INTERVIEWER: Why is that?
JAMIE: Well, I'm not the protagonist.
INTERVIEWER: Are you the antagonist? [INTERVIEWER chuckles.}
JAMIE: Certainly not!
INTERVIEWER: Okay. Why don't you tell us a little bit about the story?
JAMIE: I own what used to be a used to be a plantation worked by slaves. My father's family has owned it for generations. I'm mixed race. My mother was of African-American, Italian, and probably other European ancestry.
INTERVIEWER: Italian?
JAMIE: My maternal great-grandfather was a World War Two war bride.
INTERVIEWER: The plot thickens.
JAMIE: Not really. The only Italian in the story is the dinner we all eat one night. Anyway, I invite my paternal relatives for the traditional Labor Day garden party. My mother's mother lives with me. My parents are dead, and I don't have any siblings. One of my cousins, Billy, brings a friend with him from Memphis. They're colleagues in a law firm.
INTERVIEWER: Husbands? Boyfriends?
JAMIE: Definitely not husbands. I think Billy's Gay but he isn't out so I'd be surprised if this guy is a boyfriend. After I meet Henry, I hope he isn't for sure. He's cute and Memphis isn't that far away from the Delta. We could date. Living Gay in a small town, you run out of local options pretty fast.
INTERVIEWER: Is the maybe boyfriend attracted to you?
JAMIE: Yes but he's obviously hung up on Billy. And then there's the racial thing. He's shocked when he meets my grandmother, that she's Black. Apparently, he didn't recognize that I was. That's not a good way to start a relationship.
INTERVIEWER: Do you want a relationship?
JAMIE: Yes, with somebody. I feel very isolated. I don't know many other Gay people. My grandmother lives in her own house on the property so I'm alone in the big house most of the time. My relatives are problematic. The white side isn't happy a Black person can tell them when to come and go, and I'm not close to my Black relatives down in Arcola, where my grandmother's from. My mother was an only child so I don't really have any cousins, not first cousins at least. No Black aunts and uncles.
INTERVIEWER: So along comes this Henry, a lawyer from Memphis.
JAMIE: He's from Nashville originally. Probably not from a racially enlightened family.
INTERVIEWER: Why do you say that?
JAMIE: I can see it. Any Black person could.
INTERVIEWER: Why are you still interested in Henry if you can see he's racist?
JAMIE: Well, it's not bad. He isn't wearing a confederate flag or anything. He's trying. Actually, it's because my grandmother likes him.
INTERVIEWER: Didn't she see he was shocked she's Black?
JAMIE: Oh, she saw. But she's very forgiving. She says it's a good sign Henry's aware he carrying racism around inside him. He wants it out. He wants to deal with it. After Henry's initial shock, he was very courtly with my gran. Very Southern gentleman.
INTERVIEWER: That doesn't sound good actually.
JAMIE: It was genuine and kind of sweet. Henry must have lots of older relatives because he's been very patient with Gran. She walks with a cane and does tend to tell long stories. Anyway, she's seen it all when it comes to Jim Crow, Segregation, and how Whites treat Blacks in the South. If she can see past that and see good in Henry, why shouldn't I?
INTERVIEWER: Do you really think that?
JAMIE: [He blushes.] Well, Henry is awfully cute.
INTERVIEWER: What's he look like?
JAMIE: Tall like me. About the same build. Billy said they go to the same gym in Memphis. Red hair. Blue eyes.
INTERVIEWER: He does sound cute. And he's gainfully employed, being a lawyer and all.
JAMIE: He owns his own condo too.
INTERVIEWER: Better and better. Snap that boy up!
JAMIE: [He laughs.] I wish it were that simple. I'd like to live with somebody, get married. Maybe have kids. But Henry's got his life in Memphis, and I have mine here. Somebody has to run this place and I'm not interested in being a weekend farmer. I like living in the country. Memphis is way too big for me.
INTERVIEWER: How are you going to resolve that?
JAMIE: I don't know. The Delta has lawyers too! [He laughs.] Maybe I could talk him into becoming a farmer. [His face grows serious again, its natural state.] But he's got a lot of work to do. I couldn't make a life with anyone who has an unconscious prejudice against who I am. But, anyway, it's too early to talk about relationships. We just met. But, Henry has invited me up to Memphis. I said I'll go.
INTERVIEWER: Did you think about saying no?
JAMIE: Of course but like I said, he's cute.
INTERVIEWER: And your grandmother told you to go?
JAMIE: [He laughs.} Yes, in fact she did!
INTERVIEWER: Well, good luck. I hope your grandmother is right and all this is worth the time and effort. Thank you for speaking with us today.
JAMIE: [He laughs.] She almost always is. Thank y'all for having me.
Purchase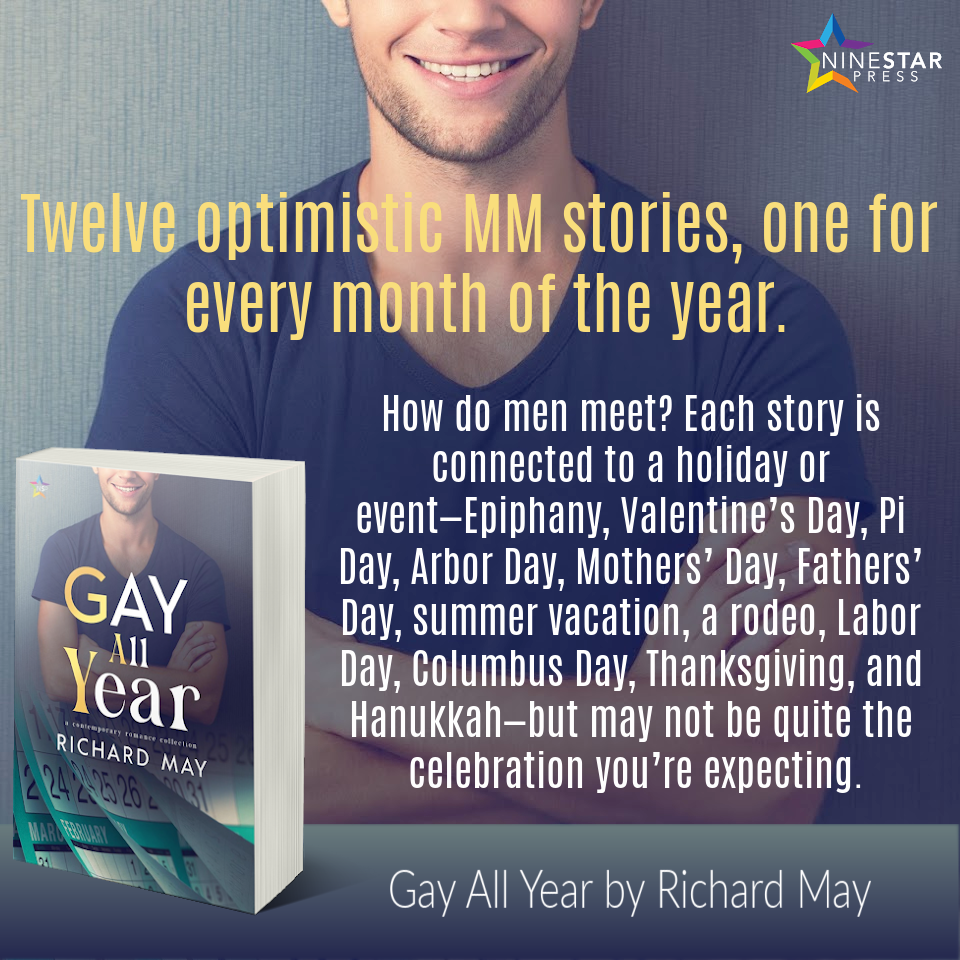 Meet the Author

Richard May's short fiction has been published in his collections Inhuman Beings: Monsters, Myths, and Science Fiction and Ginger Snaps: Photos & Stories (with photographer David Sweet) and numerous anthologies and literary periodicals. Rick also organizes two book readings at San Francisco bookstores, the Word Week annual literary festival, and the online book club Reading Queer Authors Lost to AIDS. He lives in San Francisco.
Tour Schedule
8/24 I Love Books and Stuff Blog
8/25 Bayou Book Junkie
8/26 Love Bytes
8/31 Drops of Ink
9/1 Momma Says To Read Or Not To Read
9/2 V's Reads
9/3 BFD Book Blog
9/4 Velvet Panic
Giveaway