Mary Rundle has a new paranormal MM romance audiobook out: Shadow Voice. And there's a giveaway!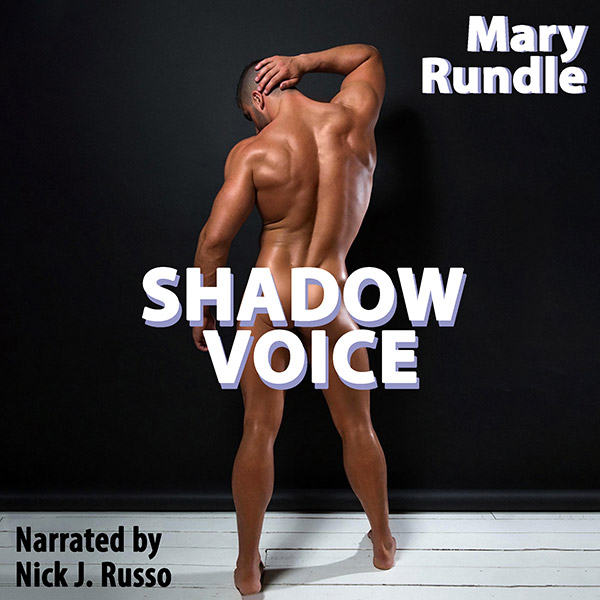 The Blackwood Pack saga continues…
This is part of an on-going series and reading the previous titles is advised. Readers of the past books will enjoy meeting old friends once more as the pack does what it does best ̶ caring for each other.
Slate, one of the last Dire Wolves, has carved out a life which suits him fine—plenty of traveling to exotic locations and an abundance of one night stands to handle his needs. While he's happy for his brother, who has found his Fated Mate, Slate isn't interested in finding his—at least not for a long time. That is, until his body betrays him. Seeking his mother's help—who is an Oracle—Slate pays a visit to the Blackwood Pack where he finds the Fates have once again, messed with his life.
Dakota, the chef for the Blackwood Pack, fell in love with cooking as a young child and ultimately the kitchen became a place of refuge for him. Suffering with a 'curse' through much of his childhood, he relied heavily on his mother's help to deal with it. After the massacre of his mother and siblings by their greedy uncle, Dakota barely survives, but finally forges a life for himself, content to stay home and take care of the people he loves.
A long-hidden secret, rejection of a mate, acceptance of rare gifts, and a brutal kidnapping are just some of the obstacles Dakota and Slate must battle together to save their relationship. As the pack rallies around them, both must learn to trust the other before they can find the happiness that the Fates have ordained for them.
Amazon US
|
Amazon UK
|
Amazon France
|
Amazon Germany
|
Audible Germany
|
iBooks
|
QueeRomance Ink
|
Goodreads
---
Giveaway
Mary is giving away an Amazon gift card and a Blackwood Pack Pub Mug with this tour:
a Rafflecopter giveawayhttps://widget-prime.rafflecopter.com/launch.js
Direct Link: http://www.rafflecopter.com/rafl/display/b60e8d47188/?
---

Special Guest Post for Books, Tattoos and Tea


Thank you so much for hosting the audiobook blog tour of Shadow Voice, fifth book in the Blackwood Pack series. It is exciting to be here and I have a special exclusive excerpt today. The Fated Mates in this story are Dakota and Slate  ̶  a couple that must unite in order for both to be saved. The narrator is Nick J. Russo, who did a fabulous job in bringing the story to life. Please enjoy!

~~~~~~~~~~~~~~~~~~~~~~~~~~~~~~~~~~~~~~~~~~~~~~~~

Oracle leaned down and kissed her mate gently at first but as she felt his arm go around her neck, pulling her tighter, deepened the kiss. It didn't take long before Maximus had her sitting on his lap, while he was giving her sweet kisses all along her neck. No matter how long she lived, Oracle knew she would never get enough of his kisses but she had to talk to her mate about their 'wild child'. Finally moving away from Maximus's wicked lips, she looked at her mate and said, "I love you so much, darling. Thank you for giving me two wonderful sons."

Bemused, Maximus gazed at her. "My pleasure and I mean that in every sense of the word. I also owe you a 'thank you' for giving them to me. You know it wasn't one sided," Maximus said, chuckling. "Now, why don't you tell me what's bothering you and let's see what I can do to fix it."

Sighing, Oracle said, "Slate is in toirchigh…"

"That's wonderful!"

"No it is not. He came here to ask me how he can end it early because according to him, he does not have the time for his Fated Mate."

"What? It's impossible to end it early unless he gets his mate pregnant."

"I know but I did not want to tell him that because he looked exhausted. He listed all the reasons why this was not the right time for him to mate."

"What were his reasons?"

"All work related. When I asked him that question, do you know he never included himself in the list of reasons? I am worried about him, Maximus. Not just him, but Steel too. I think the company should hire some personal assistants for both of them. I know Steel wants to spend more time with Daniel and he is also acting as Jackson's Second."

"Hmmm." Maximus considered his mate's suggestion and agreed. The company had grown too large for the three of them to manage alone. "Carson is ready to take on more responsibility. I've been impressed with his mind and his work. He has a natural flair for the business world."

"Slate wanted him to handle the grant end of things."

"Good idea. I can help bring him up to speed and since I'm here, we can review the applications together. I'll talk to our sons while Slate is here and see what their opinions are about getting some help," Maximus said, giving Oracle a quick kiss. "Now, fess up, you know who Slate's mate is, don't you?"

Smiling, Oracle nodded but said nothing.

"Oh, so that's how you're playing this. Okay, let's see how fast I can guess it. Mmmm, is it someone we know?"

She nodded again.

Maximus grinned. "One of Jackson's brothers?"

Oracle nodded again.

"There are three left…Zane is all wrong for him. Carson has the same intensity regarding business so that match might work…each would understand the other mate's goals…like Ian and Colton…hmmm…no, no all wrong. So that leaves Dakota!"

Oracle giggled. "Yes, Slate is meant for Dakota and I think it is a perfect match."

"Does Slate know?"

"No, not yet, but Dakota knows and he is fighting it."

"Why?"

"He believes our son wants to be free of any ties, including a mate."

"I can understand that, but I think Dakota is misjudging Slate."

Oracle smiled at Maximus. "Yes, I agree, but Slate cultivates that impression. It will take someone special to dig beneath that bravado to find the true man."

Maximus grinned. "You think Dakota will be able to do that, don't you?"

Laughing softly, Oracle answered, "Yes, I do. Dakota is a nurturer and is exactly what Slate needs."

 Chuckling, Maximus said, "Life is never dull with you. I suppose you're helping them along."

"Of course," Oracle said with a mischievous glint in her eyes. "What kind of mother would I be if I stood by and watched my son become unhappier?"

"Uh-huh. That's quite noble of you but are you sure the possibility of another grandpup isn't part of it?"

"Moi?" Oracle threw back her head in laughter. Her mate knew her so well. "It might be a teeny, tiny part of it. I am not getting any younger."

"Bah! You look just like you did when I first met you…absolutely beautiful. I still remember the day I first saw you. I fell in love instantly and knew the Fates had given me the perfect mate."

Oracle melted at her mate's words. She also remembered that day; she knew in an instant she'd met the man of her dreams and the one who could make them all come true.
---
Excerpt
The sounds of the forest faded as Dakota lost himself in the pleasure of kissing his mate's soft but firm lips—that was, until the sound of his growling stomach broke the spell. Breaking off the kiss, an embarrassed Dakota said, "Uhm, sorry, I haven't eaten since this morning."
"Babe, mine has been growling too; I haven't eaten since last night. Didn't you hear it?"
Dakota shook his head. "I guess I was a little preoccupied," he said, shyly. Glancing around the glen, he realized how late it was. "Holy shit! I have to get home and make dinner!" Dakota said, stumbling, as he tried to get up.
"Whoa! Trust me…my mother has made dinner for everyone, well, except for us."
"But Jackson will worry why I'm staying out so late. I never told anyone where I was going."
Grabbing Dakota's hand, he pulled him back down beside him. "No he won't, because I told him where you were and he knows I was headed out to find you."
"Did you tell him we're mates?"
"Yes, do you have a problem with that?"
Sighing, Dakota shook his head. "Not really. It would've come out sooner or later anyway."
The resignation in Dakota's voice wasn't reassuring but Slate decided to not worry about it right now; instead he wanted to get his mate back to the house and then, feed him. "Why don't we head back and I'll make you something for dinner."
Dakota's face brightened. "That's right, Colton told me you like to cook. Okay, do you want to shift and run back or walk back?"
"I'd prefer to walk back with you in the moonlight, if that's all right."
Dakota thought it over and decided he really did want to spend more time with his mate. He knew they needed to talk about having pups and all of that, but right now, he just wanted a moonlight stroll with Slate. "That's fine, I'd rather do that too," he said, rising to his feet again, and offering his mate a hand.
Grabbing it, Slate rose, and slinging the empty backpack over his shoulder, led Dakota down the mountain on the dirt path he'd followed when he was searching for him. "I'm hoping you know the way back."
"Yup…just follow this path until you get to a fork, then take the one to the right and it'll lead us back to the house."
Walking in silence for a few minutes, Slate wished they were already mated so at least he could know what his mate was thinking, but he knew it would take some time before that happened because of the promise he made to his mother.
"Was Jackson angry I left?" asked Dakota, worrying about what he would find at home.
Slate stopped, turned around so he was facing Dakota, then grasping his other hand, he looked intently at his mate. "Not at all. Please stop worrying about it. I told Jackson you were my Fated Mate and I wanted to claim you, but I told you I won't do that until you agree, okay?"
Dakota stared at his mate's face, loving how the moonlight highlighted Slate's features. Nodding slowly, he felt his worry disappear as his body was flooded with his mate's love. Smiling in response, he said, "You know when you do that, it makes it so easy for me to forget everything except you."
Growling his approval, Slate said, "Good, now let's go so I can show off my cooking skills."
Giggling in response, Dakota happily followed his mate. "Tell me more about the trouble you got into as a pup."
Snorting, Slate said, "Only if you promise never to tell anyone what a complete shit I was back then. Sometimes when I think back about all the crap I pulled, I'm amazed my parents still speak to me now after surviving my youth. Half of it was spent going to bed early as punishment and my poor brother spent half his youth trying to talk me out of my crazy ideas. By the way, he never did…the best he could hope for was getting me to make a few changes in the interests of protecting me from the danger that made my ideas so cool."
"Did he get punished too?"
"Sometimes, but usually when he came up with his own ideas," Slate said, laughing. "My mother told my father I was a bad influence on Steel the time we took her car and drove it into town so we could go to the fair."
"Why, cause you didn't get permission?"
Smiling broadly, Slate said, "No, though we didn't do that either. My parents were furious because Steel was only twelve."
"Twelve? Holy shit! Now I know why you didn't ask."
"Right. We knew what the answer would've been even though my brother could drive very well. The funny thing, it was actually my brother's idea to drive us and, of course, I was all for it."
"What was the big deal about the fair?"
"We heard there'd be lions and elephants and since we'd never seen any, Steel thought it'd be the only time we'd have a chance to. So off we went and had a fucking good time eating all the different foods and going on rides. We never did see any animals, but the fun we had playing the games…and winning…made up for it. You know, if it weren't for the games, we'd have gotten away with it."
"I don't get it. How could games give you away?"
---
Author Bio
The first book I ever wrote was Dire Warning in 2017 and, much to my delight, it became an Amazon Best-Seller. Readers loved it and I was on my way to chronicling the Blackwood Pack, seven brothers who are gay wolf shifters in search of their fated mates—stories about love at first sight with twists and turns, angst and humor, romance and adventure and, of course, happy endings.
As my books began to be translated into other languages, I also became an Amazon International Best-Selling author and then achieved the honor of becoming an Amazon All Star due to their popularity. My tenth book, Darkness Master has just been published and audible versions of the entire series are in progress.
I love the M/M paranormal genre because it gives my imagination a lot of territory in which to roam. My mind can really run wild and come up with some amazing stuff when it doesn't have to stay inside the box.
My readers tell me they feel like they're members of the pack as the stories unfold…as if they're right there in the middle of the action. Others tell me it's like watching a fast-paced movie. My writing style pulls no punches…readers love it and are always clamoring for the next book.
Stories come to me as if channeled by my characters, all of whom I love (except for a few villains). They are eager to recount their lives, loves and adventures and are not inhibited when it comes to revealing steamy, sexy details.
I currently live in the Northeast and love the beautiful change of seasons, my husband, and our quirky calico cat, though not necessarily in that order. I'm always happy to hear from my readers and can be reached through Facebook, Twitter, Instagram, or my website.
Author Website: https://www.maryrundle.com
Author Facebook (Personal): https://www.facebook.com/maryrundle69
Author Facebook (Author Page): https://www.facebook.com/maryrundleauthor/
Author Twitter: https://twitter.com/MaryRundle69
Author Instagram: https://www.instagram.com/maryrundle69
Author Goodreads: https://www.goodreads.com/author/show/14246427.Mary_Rundle
Author QueeRomance Ink: https://www.queeromanceink.com/mbm-book-author/mary-rundle/
Author Amazon: https://www.amazon.com/Mary-Rundle/e/B0763CDQQ6
---