Title: I Wished For You
Author: Colette Davison
Narrator: Piers Ryman
Publisher: Independently Published
Release Date: 6 June 2019
Heat Level: 3 – Some Sex
Pairing: Male/Male/Male (Menage)
Length: 06 Hours 24 Minutes
Genre: Romance, LGBT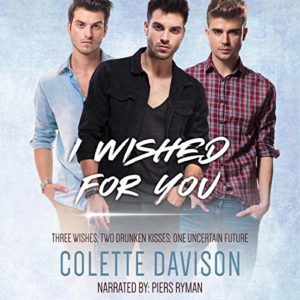 Synopsis
Three wishes.
Seb wants to be happy.
Matt wants to find 'the one.'
Connor wants them.
Two drunken kisses.
Seb didn't plan to kiss Matt and Connor, but he doesn't regret it, even if it has changed their friendship forever.
Matt has never considered dating a man before, let alone two. Despite his confusion, being with Seb and Connor feels right.
One uncertain future.
Connor's potential fate has stopped him living and loving. Can he face his fears to be with the men he loves?
***Contains explicit language and scenes***
---
🌟🌟🌟🌟 4.5 stars
🔥🔥🔥🔥 Heat Level: 4
🎧🎧🎧🎧 Narration: 4.5
A Heartwarming Listen!!
An amazing love story of friendship, trust, and acceptance! I loved it!!
This was my book narrated by Piers Ryman and I thought he did a great job. Each character had a different tone/dialect and with the creations of these subtle differences the story comes alive and I could imagine each character clearly as they navigate their way through the story. I look forward to more from Piers is the future! Well narrated!!
From the start the characters in this story where totally loveable. Colette's writing style flowed effortlessly between the three main characters, their varying points of view, thoughts, and emotions. You can't help but feel for these characters and while so different they all have a strong sense of love and friendship.
This story follows life-long best friends; Seb, Matt and Connor and their surprising shift from friendship to lovers. I found this story believable and enjoyed each character's realization of their true feelings towards each other. I loved Seb's cheekiness, Matt's acceptance of his feelings and Connor's innocence. I loved the interactions between these characters as they come to terms while their new feelings and their progress into a new relationship. Together these men make a wonderful thruple and are hot as can be! I was enamored by these three and wish there was more of them! A truly wonderful work by Colette and I wished there was more of Matt, Seb, and Connor! I loved them!
Thanks for reading! For great stories, reviews and more please visit https://bookstattoosandtea.wordpress.com 📚
---
Excerpt
"Wow," Matt breathed as a shooting star shot across the now dark sky, trailing a tail of light behind it.
"That's awesome," Seb said. "Hey, aren't you meant to wish on shooting stars or something?"
Matt stood, watching the sky intently. He'd finished his second can of beer and started on his third before he saw another shooting star.
"I wish I could find the one," he yelled at the star.
Anything was worth a shot. Every girl he'd dated had held the promise of being the one, but every relationship had fizzled out within weeks or months. He was getting close to believing he'd permanently be shut in the friend zone by every woman he knew.
"My turn," Seb said, leaping up to stand beside Matt. "Find me a star."
"There might not be any more," Connor pointed out.
A glance over his shoulder told Matt that Connor was still sitting, nursing a can of beer in his cupped hands. With their breath frosting on the air in front of them, Matt and Seb kept a fierce watch on the sky.
"There," Matt said, pointing towards the far right as a star shot across the darkness.
"I wish to be happy again," Seb yelled.
Matt turned to Connor. "It's your turn."
Connor shook his head.
"Why not?"
Connor met Matt's curious stare. "I've already had one wish come true. I figure I'd be pushing my luck to make a second."
Matt's eyebrows shot up. "Oh? Do we get to know what this wish of yours was?"
Pink splashed across Connor's nose and cheeks. He looked down, mumbling his answer. "I wished for friends. Someone I could count on. I met the two of you right after."
Matt's chest clenched. He tried to speak, but his voice stuck fast in his throat.
"Really?" Seb asked, staring intently at Connor as he sat in the middle chair.
Connor lifted his eyes again, staring at Seb and then at Matt. "Yeah." He looked to the sky. "I mean… it was probably a coincidence, but I wished for you, and there you were."
Tears stung Matt's eyes. He ran his hand over them and down his face, sniffing loudly. "Well, fuck, Con…" He wasn't even sure what it was he wanted to say. "I'm glad we met you, too," he managed. "I'm glad we could help you when you needed us."
"You still do," Connor said softly. "Every day."
"Okay, shut the fuck up now," Matt said, trying not to cry. He flopped into the third chair. "I'm not nearly drunk enough to be getting this sentimental. More booze!"
Seb handed him a full can, and together, they sat and watched the occasional light show of falling stars as they drank into the night.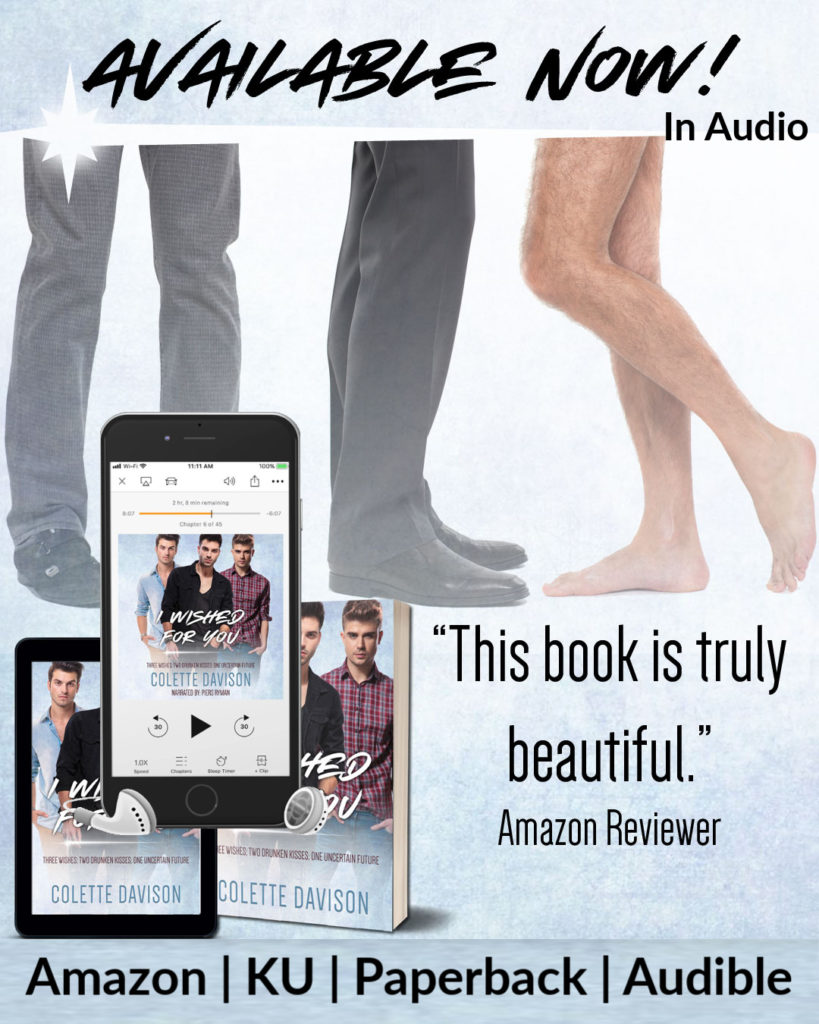 ---
Meet the Author

Colette's personal love story began at university, where she met her future husband. An evening of flirting, in the shadow of Lancaster castle, eventually led to a fairytale wedding. She's enjoying her own 'happy ever after' in the north of England with her husband, two beautiful children and her writing.
---
---
---